Starring: Nico
Musique de Serge Gainsbourg et Nico.


http://turquoisechildren.online.fr/radio/mp3/Nico%20-%20Strip%20tease.mp3
Strip Tease mp3 - Nico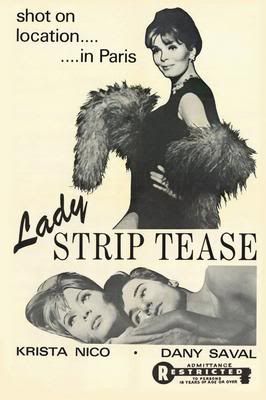 This was one of Nico's first starring roles and musical experiences.




In Nico Icon, this clip was shown to the music of 'Afraid' from 1970's Desertshore
When put to Afraid it added a totally different dimension and really surfaced how miserable and terrified she was.
Making blunt gestures with her long limbs and reacting to the mannequin falling apart.
Nothing made her happy.